I just wanted to express how wonderful the meal was catered by Culinary WAVE. The meal had rave reviews from all the attendees. We just loved the Beef Wellington and the scalloped potatoes were to die for…… [Your staff] was wonderful. She really is someone that every business wants to have as an employee. What a delight to have someone so attentive to the guests and making sure even the smallest wishes were taken care of… Please thank [her] again for us and the wonderful service she provided.
Barbara Anders
Zonta Club of Denver
Thank you so much for helping to make our 1st department picnic a success. None of us had ever planned an event like this before so of course, we didn't have the name of a catering company. I used Google and looked at a few websites before yours. I found yours easier to navigate and I liked the variety of foods offered so we wouldn't have to have hamburgers and hot dogs. I printed the menus and presented them to our group to pick what we wanted to have. Boy, was that a tough choice! I was nervous being we had never tried any of the food and would our co-workers like it. The food was AWESOME!!! From the time people tasted it to Monday following the picnic, we have heard nothing but good things about the food and how nice the presentation of it was. We are hopeful that we will get to do more events in the future and Culinary WAVE will DEFINITELY be the caterer we use."
Sue Roof
We were very pleased with the Culinary WAVE staff and the food for our event. The staff was right on time and went about their business very quickly and professionally. The food was great and we have received many compliments about the entire dinner from many of the Poppy Hills residents. Thank you again for helping to make our event such a successful one.
Ann H. Welsch
Poppy Hills HOA
"We were very pleased with Culinary WAVE! The food [for our daughter's 40th birthday celebration with an 80's theme] was delicious and there was more than enough! THANK YOU and we would highly recommend you to anyone looking for a catering company."
The Goddards
"We love using Culinary WAVE and I personally love how easy you make everything!"
Rocky Mountain College
Art & Design
"The [Widowed Men and Women of America Link 10 summer] picnic was a success and the meal was wonderful. Great staff and service. Thank you very much."
Ginger
Lisa,
Your creations are truly amazing. The [custom wedding] cake was beautiful and very tasty. Thanks for all of your hard work!
Jim and Chrisie Jackson
Jackson Fine Art Photography
Thank you so much for the delightful breakfast for the ACIC at the Heritage Center. Your company was a pleasure to work with from my first phone call all the way to the clean-up of the last crumb!
Teri & the ACIC
We loved everything! It [our wedding reception at Grant Humphreys Mansion] was the best experience ever! I will recommend you guys to everyone!
KC Carter
Jeff, Vicky & the Culinary WAVE Staff, Thank you for all the hard work and preparation to make our wedding day special. You have been wonderful to work with every step of the way. Many thanks!
The Murphys
You guys are amazing!!! Never another caterer for me!
L Geisleman, Jefferson County Democrats
Thanks to you and your staff for good wholesome food and service at the 150th Anniversary Party at the Fairgrounds and our Rotary Christmas Party this week. You guys do a fine job and I refer others to you. Your service is unmatched in every respect.
Ernie Witucki
President Lakewood Foothills Rotary & Jeffco Historical Commission
I had the privilege of working with your team of caterers…at the wedding in Evergreen on July 15, 2011, at the
Lake House. It was such a joy to work with people who are truly service oriented. Every time we hit a glitch, they were already creating the solution. If there was a…lack of planning on the side of the bride and groom, they maintained a delicate balance between consulting the bridal party and used common sense to figure it out.
In a society that has adopted the motto "It's all about me", these three young people stand out because they are all about pleasing others. They were professional, caring, competent, and friendly. What a team!!!! Because of them, I will enthusiastically recommend your catering service to other people.
I would be remiss in not saying that the food was excellent. But above all, it was the team of individuals that created the atmosphere of fine dining because of their dedication and cooperative spirit.
Nancy Frink
I want to send a heartfelt thanks to all of you at Culinary WAVE! The food was delicious and the service impeccable. I will definitely use you in the future.
C.B. - Warren Tech
Thank you for your help and support to make our Board of Directors meeting a great success. The food was delicious and the service was excellent. With thanks and appreciation.
Lori S.
You guys did AWESOME [catering our wedding reception]!!! Everyone was so nice and the food was delish!! I couldn't have asked for better service from the Culinary WAVE team and they were so polite! Please be sure to tell them great job for me! Thanks again!!
Annika H.
Thank you so much for the delicious food and BEAUTIFUL presentation. It was beyond what I had hoped for.
Jessica N.
Your catering and food quality is awesome! Thank you for your great work!
DARE2SHARE
The food was fantastic. I am a bit of a healthy eater, and I felt like the food offerings you guys had were able to accommodate my tastes. The chicken, salads, and roasted vegetables were outstanding, truly.
Max G.
The evening couldn't have been more phenomenal and elegant without Culinary WAVE. Endless thanks for… beyond-friendly customer service and the delicious cuisine!
Julie D.
Our dinner was excellent. We will definitely be calling Culinary WAVE in the future. Thanks!.
Bonnie B.
I received several compliments regarding dinner last night. The Veggie Medley soup is out of this world delish! My mouth wants more! Thank you!
M. V.
I just wanted to say how impressed I was with you and your staff at my son Jon's wedding reception. I have had the opportunity to attend many events over the years where catering companies were involved and I thought your staff was more professional and attentive than any I have experienced. Considering the last minute circumstances which you became involved, you and your staff were wonderfully prepared. Again Thank You and there is no question if I ever am asked for a recommendation on catering, your company will be the only one I will suggest.
Jerry Grooters
Thanks to all who put together such a lovely feast for us at the West Chamber [Membership] 101 lunch. It was wonderful–rave comments from everyone. Thanks!
Dana Naas
Golden Printing & Promotional Products
I absolutely can't say enough about Culinary WAVE. Their food is terrific, their set-ups are beautiful and their prices are very, very reasonable. I've used them for anything from a 15 person breakfast to a 250 person lunch and the quality hasn't slipped a bit on either end of the spectrum.
Joy Douglass
I just want to say a big thank you for the success of our Manual Reunion Party. Everyone had a great time and all said THE FOOD WAS GREAT. Also the girls who waited on us were just great too. Thanks for being so easy to work with.
Jean Knowles
Wanted to thank you so much for the wonderful breakfast burritos brought for our meeting. I wanted to let you know they were the best burritos I've eaten in, well, in forever. The green chili was very good as well. The guys enjoyed it so much and again, I can't thank you enough.
Carol Salazar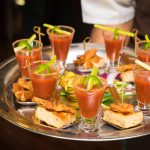 On behalf of SourceGas, I wanted to extend our thanks for a wonderful lunch buffet. You went above and beyond by providing so much and such a variety of food for us. … I asked for everyone to provide me with comments…Everyone loved everything!
The biggest hit was the Chipotle BBQ. We all thought it had a wonderful distinct flavor with a little kick, but not too much, and the beef and chicken were so tender. The presentation was neat, clean, colorful and inviting without being too cluttered or overwhelming. The homemade potato chips were a big hit! Your [sample] box and sack lunches were packed with favorites and when all was said and done, there wasn't a crumb left.
Everyone thought the pricing was terrific and in this economy we all know how important that is. We are bound to provide catering for the company, but when we can provide 5 star catering at reasonable rates, you can be assured we will use Culinary WAVE. Fantastic job. …Thank you again for an awesome presentation and delicious food.
R. B.