Sometimes you just have to go over the top.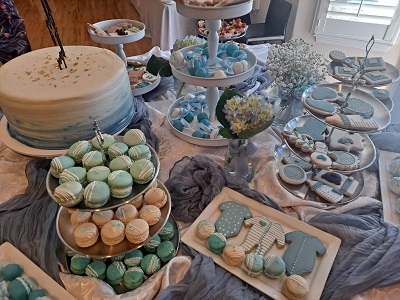 A long-time client reached out to us late in 2022 to begin planning a very happy occasion for 60 of their friends and family. We do several events for this family each year, typically for holidays and important milestone celebrations, but this one was even more special to them.
Their daughter was expecting her first child in mid-2023 and they wanted to celebrate the soon-to-arrive baby boy with the finest baby shower. We don't normally need six months to plan a significant event like this, but they wanted to get this event locked in with us and begin the very fun planning process.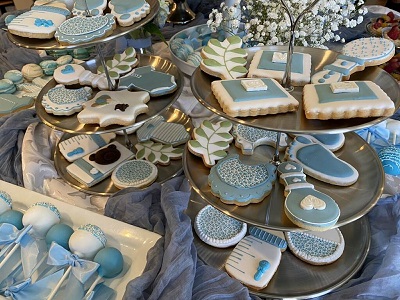 Once we learned the child would be a boy, we planned a beautiful, blue-themed catered celebration experience centered around a beautiful dessert arrangement. The family requested some of their favorite hors d'oeuvres that we had provided at their previous events, and we suggested several others that would complement the cuisine. They wanted the food and experience to be elegant – beyond the more traditional, "cutesy" baby shower event.
As guests arrived mid-morning, they mingled over an extensive selection of hors d'oeuvres and then enjoyed a hot buffet lunch. Throughout the celebration, however, they kept wandering over to the dessert table, the centerpiece of the event!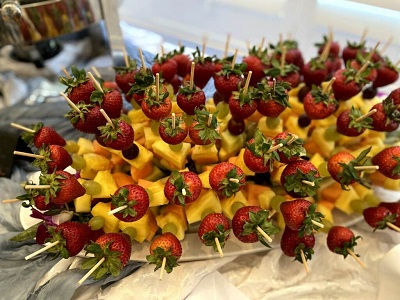 But first things first. The guests were greeted with lemonade infused with blueberries and mint. The hors d'oeuvres included some of their (and our) favorites: cucumber & herb cream cheese finger sandwiches; mini fruit kabobs; mini baked Beef Wellingtons with tender grilled beef topped with mushrooms and onion red wine duxelle wrapped in a puff pastry; spinach and goat cheese tartlets – delicate phyllo cups filled with goat cheese and spinach with a hint of nutmeg and garnished with dried cranberries; and spicy duck and pear wontons served with orange dipping sauce.
The buffet featured Tuscan chicken – grilled breasts topped with a sauté of red onion, tomato, caper, artichoke, fresh garlic and oregano tossed in chardonnay wine and served with rice pilaf, fresh vegetables, rolls and butter and a chef's salad selection.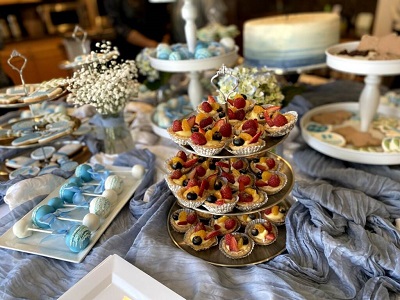 The dessert assortment is what everyone is still talking about, though. The cake was a gift from one of the guests and it came from another bakery in town. It was beautiful, but it arrived damaged, so I quickly repaired it. (That's not the first time I've had to do that with layer cakes that weren't ours!) The petite tartlets macaroon tower and custom-decorated, royal iced baby shower cookies with teddy bear and balloon themes were an especially big hit.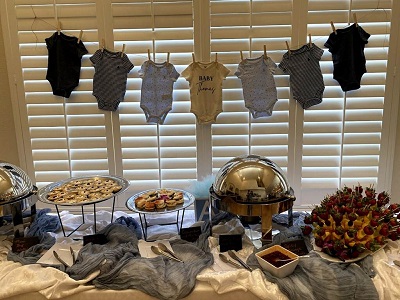 Our team of three was on hand providing efficient set-up, expert guest service and thorough cleanup.
I stopped by before the event kicked off to review the setup and also congratulate and share a hug of happiness with the mother-to-be and the family!